Last Updated: April 2023
Up until the Nest Smart Thermostat broke onto the market, thermostats were generally basic and boring knobs (sometimes digital screens) that you only cared about when too hot or too cold. The advent of the "smart thermostat" product category prompted many manufacturers to start innovating their own versions of smart thermostats. Choosing the right thermostat for your rental property will most depend on what type of rental property it is, such as an economical multifamily rental unit or luxury vacation rental.
---
Best Rental Property Thermostats
Below we explore the top 5 thermostats for rental properties based on 5 different factors that landlords and property managers should consider when determining which type of thermostat is best for their rental property.
Best Overall Thermostat
Honeywell Home – 5-2 Day Programmable Digital Thermostat
Type
Digital, Programmable
Why We Like This Thermostat Overall
Most digital thermostats are either expensive or too complicated. For under $50, this digital thermostat provides the perfect blend of modern features with the ability to easily control heating and cooling.
Best Economy Thermostat
Emerson – NP110 Non-Programmable Single Stage Thermostat
Type
Non-Programmable
Why We Like This Economy Thermostat
If you are looking for the most cost efficient thermostat to control heating and cooling, this basic thermostat will get the job done for under $25. Emerson is a well known brand in consumer electronics so rest assured this thermostat is built with quality.
Best Smart Thermostat
ecobee – Smart Thermostat Premium – Siri & Alexa Compatible, Built in Air Quality Monitor, Smart Sensor
Type
Programmable, Touchscreen, WiFi Control Remotely
Why We Like This Smart Thermostat
The amount of advanced features that come with this thermostat is very impressive – air quality monitoring, auto location-based adjusting, and is compatible with almost all major smart home brands. It is reasonably priced for under $250 and has cheaper versions available as well.
Best Premium Thermostat
Google Nest – Learning Thermostat Smart Programmable for Home, Alexa Compatible
Type
Programmable and Self-Learning, Touchscreen, Wifi Control Remotely
Why We Like This Premium Thermostat
The original Nest thermostat is one of the pioneers of smart thermostats. Its interface is very easy to use and looks amazing on any wall. The build is very durable and can easily be controlled from a distance via WiFi.
Best Commercial Thermostat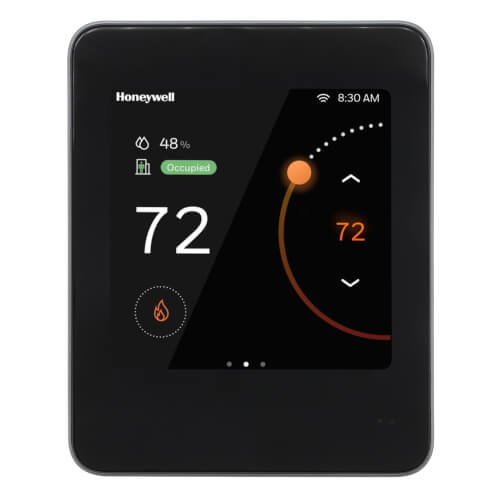 Honeywell – TC500 Commercial Wireless Smart Thermostat – Heat Pump and Conventional
Type
Programmable, Touchscreen, WiFi Control Remotely
Why We Like This Commercial Thermostat
Since many residential thermostats do not work with commercial heating and cooling systems, commercial thermostats tend to be boring and costly. This Honeywell thermostat is packed with features, wrapped in a modern and elegant touchscreen design, at a reasonable price.
The #1 Rental Property Newsletter
Once a Month We Send Out an Exclusive Rental Property Market Update with Exclusive Content, Exciting Products, Mortgage Trends, and More. No Spam and Unsubscribe Anytime.
Rental Property Thermostat FAQ
Where to Find a HVAC Pro for Thermostat Repair and installation
Finding qualified, honest, and reliable service pros can sometimes be more challenging than anticipated. The best way to find quality HVAC pros to repair or install a rental property thermostat is usually word of mouth from a neighbor or other real estate investors, however there is a new alternative – online service directories. These platforms directly connect customers and service providers who can work on whole home installations and repairs from rental property ceiling fans to door handles.
---
More Rental Property Building Products
Disclosure: RentalRealEstate.com is a participant in the Amazon Services LLC Associates Program as well as other affiliate programs, designed to provide a means for us to generate revenue by linking to Amazon and affiliated sites at no extra cost to you.