Last Updated: September 2023
Although not including appliances has been a growing trend in residential multifamily rental properties, some landlords still choose to offer appliances to entice tenants or charge an additional monthly premium. Microwaves are either freestanding (also called a Countertop Microwave) or Built in (usually Over-the-Stove). Built in microwaves can be a great amenity to include in a kitchen, as it will free up valuable countertop space, however, the landlord would likely be responsible for maintenance.
---
Best Rental Property Microwaves
Below we explore the top 5 microwaves for rental properties based on 5 different factors that landlords should consider when determining which type of microwave is best for their rental property investment.
Best Overall Microwave
Frigidaire – FFMV1846VS 30″ Stainless Steel Over The Range Microwave, 1.8 Cu. Ft., 1,000 Watts, Child Lock and 300 CFM
Type
Built-In Over-the-Range
Pros
Extra-large 1.8 cu. ft. capacity accommodates bigger dishes and cookware
Multi-functional with two-speed ventilation and over-the-range hood feature
Cons
Requires sufficient space due to its larger size
No mention of advanced cooking features or sensors
Why We Like This Overall Microwave
If you are installing a built-in over the range microwave, this is our top pick for its excellent blend of style, functionality and price.
Best Economy Microwave
Farberware – 0.7 Cu. Ft. Compact Countertop Microwave, 700-Watts with LED Lighting, Child Lock, Easy Clean Interior
Type
Countertop
Pros
Very affordable price from reputable brand name manufacturer
Ten power levels and one-touch cooking options offer versatility and ease
Cons
Limited to 700 watts, potentially slower cooking for certain dishes
Compact 0.7 cu ft size might be small for some dishes
Why We Like This Economy Microwave
If you just need a basic countertop microwave for a rental unit, this Farberware is a great choice that doesn't require any installation (countertop) and is priced under $75 with over 3,000 reviews.
Best Compact Microwave
Commercial Chef – CHM660 Counter Top Microwave, 0.6 Cubic Feet
Type
Countertop
Pros
Super compact design ideal for small living spaces
Mechanical dials offers simple operation with 6 adjustable cooking power levels
Cons
Limited to 600 watts, potentially affecting cooking speed and efficiency
Lacks digital display and interior light only activates when running
Why We Like This Compact Microwave
At less than 18" wide, this is the smallest fully-featured microwave we could find that is perfect for super small kitchens such as student living dorms or apartments.
Best Smart Microwave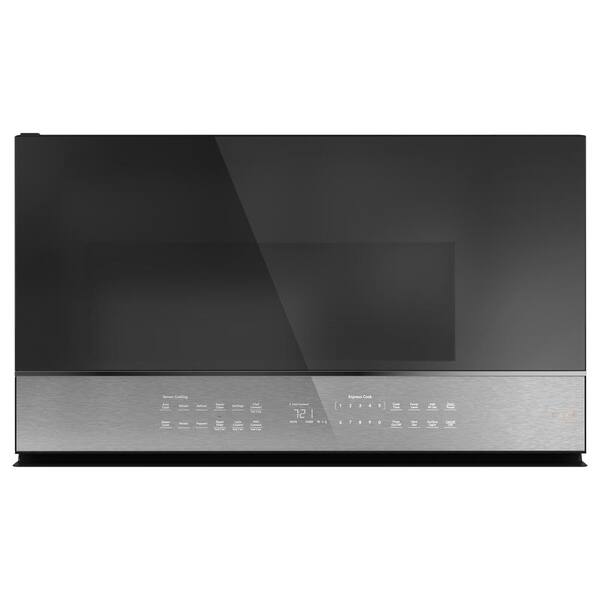 Cafe -2.1 Cu. Ft. Smart Over-The-Range Microwave with Sensor and Scan-to-Cook, 1,050-Watts
Type
Built-In Over-the-Range
Pros
Scan-to-Cook Technology adjusts settings based on package instructions, simplifying cooking tasks
Wi-Fi Connect offers control with smart devices or voice, enhancing user convenience
Cons
Limited to a 1-year warranty, which might be shorter compared to some competitors
Specific platinum glass finish might not match all kitchen aesthetics or decor
Why We Like This Smart Microwave
If you are looking for an impressive built-in smart microwave, then this one is at the top of our list. It comes with innovative features such as scan-to-cook technology, sensor adjusting cooking functions, and also doubles as an over the range vent.
Best Commercial Microwave
Panasonic – Countertop Commercial Microwave Oven, 10 Programmable Memory and Touch Screen Control, 1,000W – NE-1054F – 0.8 Cu. Ft
Type
Countertop, Commercial
Pros
Commercial construction designed for full-service/fast-food restaurants, convenience stores, hotels, cafeterias, catering and other heavy usage scenarios
Touch-Control Keypad with Braille offers accessible, programmable operation with 20-memory capability
Cons
Significantly more expensive than standard residential-grade microwaves
Compact size might not accommodate larger dishes despite its heavy-duty designation
Why We Like This Commercial Microwave
Commercial microwaves are built to withstand significantly more use than other residential microwaves. This Amazon Commercial microwave is our favorite for its reasonable price and simplicity.
The #1 Rental Property Newsletter
Once a month, we send out an exclusive Rental Property Market Update with top stories, current mortgage rates, building products, and more. No spam and unsubscribe anytime.
Rental Property Microwave FAQ
4 Types of Microwaves for Rental Properties
When equipping a rental unit kitchen, choosing the right type of microwave can enhance the space's functionality and aesthetic appeal. Microwaves come in a variety of styles including countertop models, built-in models, and over-the-range units, each with their own advantages and disadvantages. The choice will depend on factors such as available space, budget, kitchen layout, and tenant demographic. It's essential to balance the need for convenience, space utilization, style, and cost when making your decision. Below we compare the pros and cons of each of the 4 most common microwaves for rental properties.
| Microwave Type | Pros | Cons |
| --- | --- | --- |
| Countertop Microwaves | Easy to install; Portable; Wide range of sizes and prices | Can take up valuable counter space; Not built-in to the kitchen design |
| Built-in Microwaves | Saves counter space; Creates a seamless look in the kitchen | More expensive; Installation can be complex; Not easily moved or replaced |
| Over-the-Range Microwaves | Saves counter space; Often includes a built-in range hood for ventilation | Installation can be complex; Not as easily accessible for shorter individuals or children; More expensive than countertop models |
| Microwave Drawers | Space-saving; Accessible; Sleek integration with kitchen design | Expensive; Requires professional installation |
---
Microwave Repair and Installation Pros
How to Hire a Rental Property Electrician
Installing an over the range or built in microwave should be done by an electrician, as you will have to ensure the unit has sufficient power. Understanding the process of how to hire an electrician to install a rental property microwave can make the job a smooth experience.
Where to Find Rental Property Pros
Finding qualified, honest, and reliable service pros can easily be done with online service directories.These platforms directly connect customers and service providers who can work on whole home repairs from kitchen ovens to smart locks.
---
Does a Landlord Need to Provide a Microwave?
Microwaves in residential rental units are usually not required to be provided, unless specified otherwise in a residential lease agreement or local laws require so. The good news is that microwaves are not a costly appliance, with the cheapest well-reviewed one we have found to only cost around $75. Therefore, it is important that both parties review the lease agreement to understand exactly what is expected when it comes to providing amenities such as microwaves. Tenants should know what is (or isn't) included in their rental agreement before signing any documents and landlords need to be aware of the law in order to avoid potential conflicts with their tenants.
Search Rental Real Estate
Try searching our site for hundreds of rental property topics. We cover everything from landlord topics, building products, market data, and more.
Who is Responsible for Repairing a Built-in Microwave in Rental Property?
The maintenance and repair responsibilities of rather the tenant or landlord (property management company) ultimately come down to how this is written in the lease agreement. If the appliance was provided with the unit, the argument could be made that it is the responsibility of the landlord. Be sure to also check your lease agreement and state specific tenant laws on the responsibilities of appliances.
---
More Rental Property Building Products
---
About the Author
Ryan Nelson
I'm an investor, real estate developer, and property manager with hands-on experience in all types of real estate from single family homes up to hundreds of thousands of square feet of commercial real estate. RentalRealEstate is my mission to create the ultimate real estate investor platform for expert resources, reviews and tools. Learn more about my story.
---
Disclosure: RentalRealEstate.com is a participant in the Amazon Services LLC Associates Program as well as other affiliate programs, designed to provide a means for us to generate revenue by linking to Amazon and affiliated sites at no extra cost to you.