Last Updated: April 2023
Although not including appliances has been a growing trend in residential rental properties, some landlords still choose to offer appliances to entice tenants or charge an additional monthly premium. Microwaves are either freestanding (also called a Countertop Microwave) or Built in (usually Over-the-Stove). Built in microwaves can be a great amenity to include in a kitchen, as it will free up valuable countertop space, however, the landlord would likely be responsible for maintenance.
---
Best Rental Property Microwaves
Below we explore the top 5 microwaves for rental properties based on 5 different factors that landlords should consider when determining which type of microwave is best for their rental property investment.
Best Overall Microwave
Galanz – 1.7 Cu.Ft Over-The-Range Microwave, 30-second Express Cooking, 9 Auto-Cook Programs, 1000-Watts
Type
Built-In Over-the-Range
Why We Like This Overall Microwave
If you are installing a built-in over the range microwave, this is our top pick for its excellent blend of style, functionality and price.
Best Economy Microwave
Farberware – 0.7 Cu. Ft. Compact Countertop Microwave, 700-Watts with LED Lighting, Child Lock, Easy Clean Interior
Type
Countertop
Why We Like This Economy Microwave
If you just need a basic microwave for a rental unit, this Farberware is a great choice that doesn't require any installation (countertop) and is priced under $75 with over 3,000 reviews.
Best Compact Microwave
Whirpool – 0.5 cu. ft. Countertop Microwave with Add 30 Seconds Option
Type
Countertop
Why We Like This Compact Microwave
At less than 16" wide, this is the smallest fully-featured microwave we could find that is perfect for super small kitchens.
Best Smart Microwave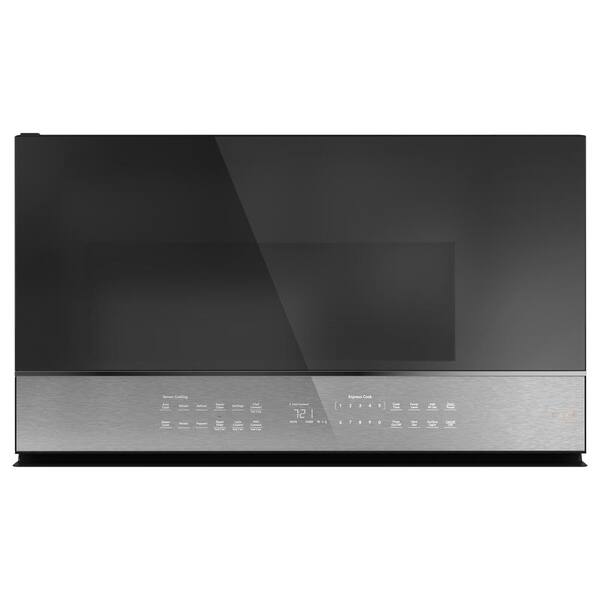 Cafe -2.1 Cu. Ft. Smart Over-The-Range Microwave with Sensor Cooking, Scan-to-Cook Technology, 1,050-Watts
Type
Built-In Over-the-Range
Why We Like This Smart Microwave
If you are looking for an impressive built-in smart microwave, then this one is at the top of our list. It comes with innovative features such as scan-to-cook technology, sensor adjusting cooking functions, and also doubles as an over the range vent.
Best Commercial Microwave
Amazon Commercial – 0.6 Cubic Feet, Microwave Oven with Membrane Control, Stainless Steel, 1800-Watts
Type
Countertop, Commercial
Why We Like This Commercial Microwave
Commercial microwaves are built to withstand significantly more use than other residential microwaves. This Amazon Commercial microwave is our favorite for its reasonable price and simplicity.
The #1 Rental Property Newsletter
Once a Month We Send Out an Exclusive Rental Property Market Update with Exclusive Content, Exciting Products, Mortgage Trends, and More. No Spam and Unsubscribe Anytime.
Rental Property Microwave FAQ
Does a Landlord Need to Provide a Microwave?
Microwaves in residential rental units are usually not required to be provided by a landlord as part of a lease agreement. The good news is that microwaves are not a costly appliance, with the cheapest name brand one we have found to around $55. The only cases where a landlord would be required to provide a tenant a microwave would be if it was stipulated in a signed lease agreement, or it is required to do so by the local laws of where the rental property is located. Therefore, it is important that both parties review the lease agreement to understand exactly what is expected when it comes to providing amenities such as microwaves. Tenants should know what is (or isn't) included in their rental agreement before signing any documents and landlords need to be aware of the law in order to avoid potential conflicts with their tenants. Ultimately, microwave ovens do not need to be provided by a landlord unless otherwise specified in a lease agreement or local laws.
---
Who is in Charge of Repairing a Built-in Microwave Oven in Rental Property?
The maintenance and repair responsibilities of rather the tenant or landlord (property management company) ultimately come down to how this is written in the lease agreement. If the appliance was provided with the unit, the argument could be made that it is the responsibility of the landlord. Be sure to also check your state specific tenant laws on the responsibilities of appliances.
---
More Rental Property Building Products
Disclosure: RentalRealEstate.com is a participant in the Amazon Services LLC Associates Program as well as other affiliate programs, designed to provide a means for us to generate revenue by linking to Amazon and affiliated sites at no extra cost to you.