Last Updated: February 2023
Doorbells are a basic building product that were unsexy for decades until the popularization of video doorbells emerged. Many older properties usually have hard-wired door bells (i.e. button-to-wire-to-chime), while newer construction properties are being prewired to support video doorbells. Choosing the right doorbell will depend on many factors such as the type of rental property, tenant's needs, and budget. Below we explore the top 5 doorbells for rental properties based on 5 different factors that landlords and property managers should consider when determining which type of doorbell is best for their property.
---
---
Best Rental Property Doorbells
Best Overall
SECRUI Wireless Doorbell, Waterproof Mini Doorbell 1,000ft Range 110dB Mute Mode 58 Door Chimes & Colorful LED Flashing – Black
Why We Like This Overall Doorbell
For under $20, this wireless plug in doorbell is an overall great doorbell that provides plenty of options at a great price. It has a stylish modern design and almost 20,000 user reviews.
Best Economy
TECKNET Wireless Doorbell, Waterproof Door bell Ring Chime Kit Operating at 1300ft with 2 Plug-In Receivers 38 Chimes, 4 Volume Levels & LED Flashing
Why We Like This Economy Doorbell
When it comes to economical doorbells, it doesn't get much better than this one. At less than $10, this doorbell will get the job done at an unbeatable price.
Best Video
Ring Video Doorbell – 1080p HD video, improved motion detection, easy installation – Satin Nickel
Why We Like This Doorbell
There are many video doorbells out there, but Ring was one of the originals and our personal favorite. It has a rechargeable battery and a very user friendly mobile friendly app.
Best Wired
Newhouse Hardware CKIT1 Two Note Electric Door Bell Chime Kit w/ 16V/10VA Transformer & Surface Mount Lighted Push Buttons
Why We Like This Wired Doorbell
If you just need an "old school" doorbell for your rental property, then this wired chime-only doorbell should do the trick. It's under $30 and comes with everything needed for installation.
Best Multi-Tenant Intercom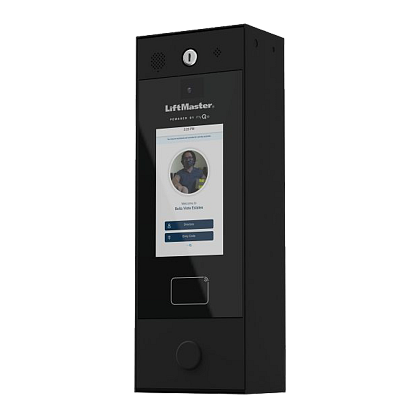 LiftMaster Smart Video Intercom – CAPXM
Why We Like This Multi-Tenant Intercom System
If you own or manage a large residential multi-tenant property, this is the most advanced multi-tenant intercom system. It is fully wireless and tenant's can easily use through their mobile devices.
The #1 Rental Property Newsletter
Once a Month We Send Out an Exclusive Rental Property Market Update with Exclusive Content, Exciting Products, Mortgage Trends, and More. No Spam and Unsubscribe Anytime.
Rental Property Doorbell FAQ
What is a Video Doorbell?
Video doorbells, also called smart doorbells or doorbell cameras, are internet-connected devices that notify a smartphone or other electronic device when a visitor arrives at the door. Video doorbells get their power from being battery-powered (wireless) or hard wired. They are activated in two different ways – if a visitor presses the button, or if the doorbell senses motion with its built-in motion sensors. Owners can access the camera footage on a smartphone or other electronic device. Some smart doorbells also allow for two-way communication through their built-in camera and microphone.
---
What is a Wireless Doorbell?
Wireless doorbells are a type of doorbell that operates without wires directly to a chime (i.e. receiver). Most wireless doorbells come with 2 components – a button and receiver. They are battery powered, with a receiver plugged into a wall outlet inside. They work similar to traditional doorbells with a simple press of the button. The interior receiver will emit a chime sound, which is usually customizable.
---
How Much are Residential Rental Property Doorbells?
Rental property doorbells can range anywhere from $10 all the way up to $175 or more. The majority of doorbell prices fall around $19 to $44.
How Much are Commercial Rental Property Doorbells?
Commercial properties such as large multi-tenant apartment complexes with tens or hundreds of tenants usually use intercom systems. These systems vary in price from $250 up into the $1,000's. The majority of intercom systems including installation range in price between $1,500 and $3,000.
---
Does a Landlord Have to Provide a Doorbell?
Although it may seem like a standard component of a rental unit, landlords sometimes are (and sometimes are not) obligated to provide a doorbell for rental units depending on the property. According to the International Residential Code (IRC), doorbells, buzzer, chime, or other signaling devices are required for residential dwelling units. However, differing interpretations exist among whether doorbells are mandated for main entry doors for single-family residences too, or only each unit in multi-unit residential buildings (check with your local government building agency). Some states specify the number of units that they are required, such as the state of New Jersey, USA where buildings with fewer than 6 units are not required to have individual doorbells. The law reads as follows:
Buildings with fewer than six dwelling units shall not be required to have bells in every dwelling unit provided there is at least one exterior doorbell connected so as to ring at least one bell in the common areas which will be audible in all dwelling units. Source
It is best to check with your local governmental building agency to determine if there is an applicable ordinance that addresses this topic. With the cheapest doorbell available being only $10.00 it is best practice for landlords to simply provide a doorbell if non-existent or a tenant requests one. The nominal investment can ensure a happy tenant and bring greater security to your rental property.
---
Does a Landlord Have to Repair a Broken Doorbell?
If a doorbell was provided and/or installed in your unit unit at the time of the lease, the landlord is generally required to maintain any equipment that was present at the time of tenant possession. If you are a landlord and do not want to be responsible for doorbell repairs, it is best to remove one before the tenant takes possession of the unit. If you are a tenant in need of doorbell repair, it is best to first contact your landlord or property manager to request the repair.
---
Can a Tenant Install a Video Doorbell at a Rental Property?
Video doorbells are quickly growing in popularity, especially with the rise of package thefts from doorsteps. Since these doorbells can record video footage, they should be treated similar to as if a tenant was requesting to install a video camera. Language regarding security cameras and related systems is now commonly included in many leases. Some landlords and managers might not allow it, while others may allow it with restrictions. If it is allowed, permissible guidelines usually include the specific approved installation location and the view of footage that the camera is recording. From a landlord's perspective, video doorbells can have positives and negatives. The positive is that they can provide an additional layer of security for your tenants. The negative is that the footage recorded can potentially be a liability among other tenants.
---
Explore More Rental Property Building Products
Disclosure: RentalRealEstate.com is a participant in the Amazon Services LLC Associates Program as well as other affiliate programs, designed to provide a means for us to generate revenue by linking to Amazon and affiliated sites at no extra cost to you.