Last Updated: April 2023
Ceiling fans are an amenity that is often not appreciated until you need one. They're commonly found all throughout rental real estate properties – primarily inside residential apartment unit bedrooms, outside in patio areas, and inside large commercial spaces. Ceiling fans come in a variety of options and most include lights to also function as the light source for the room.
---
Best Rental Property Ceiling Fans
Below we explore the top 5 ceiling fans for rental properties based on 5 different factors that landlords and property managers usually consider when determining which fan is best for their rental property investment.
Best Overall Ceiling Fan
Hunter – Dempsey Low Profile Indoor Ceiling Fan with LED Light and Remote Control, Metal, Fresh White, 44 Inch
Why We Like This Overall Fan
This is an excellent overall fan for a rental property. Hunter is a well-known manufacturer of ceiling fans and this fan comes with all the bells and whistles desired in a ceiling fan (LEDs, remote, and reversible blades) at a great price.
Best Economy Ceiling Fan
Prominence Home – Alvina Ceiling Fan, LED Globe Light Low Profile 42″
Why We Like This Economy Fan
For just over $50, this is a great fan to put into a rental property. It has an LED light and optional reversible blades to match a room's decor. The 42" is a good size for most standard sized bedrooms.
Best Smart Ceiling Fan
Jinweite – Metal Shell Low Profile Semi Flush Mount Ceiling Fan with Dimmable LED Light
Why We Like This Smart Fan
This fan is an innovative new design that still delivers good airflow like traditional fans. It has dimmable and color-changing LEDs and reversible air-flow to blow or suck air. At only 19" in diameter it can be great for small spaces, as it doesn't have large exposed blades.
Best Design Ceiling Fan
Minka-Aire – F843-DK, Wave, 52″ Ceiling Fan with Remote Control
Why We Like This Designer Fan
If you are looking for a cool design at a reasonable price (under $300) then this fan is a great choice. The unique design and smart home compatibility makes it a great choice for those looking to make a design statement from an established brand.
Best Commercial Ceiling Fan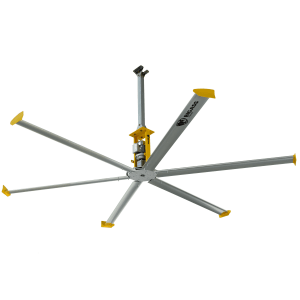 Big Ass Fans – 14′ 6-Blade Commercial/ Industrial Ceiling Fan
Why We Like This Commercial Fan
If you need to cool a large space (e.g. industrial warehouse building) but cannot run air conditioning, then this large commercial fan is the best choice. At 14 feet wide, it can handle very large spaces up to 70 x 70 ft (4,900 square feet) and ceiling heights of 14-30 feet.
The #1 Rental Property Newsletter
Once a Month We Send Out an Exclusive Rental Property Market Update with Exclusive Content, Exciting Products, Mortgage Trends, and More. No Spam and Unsubscribe Anytime.
Rental Property Ceiling Fan FAQ
Are Landlords Responsible for Installing Ceiling Fans in a Rental Property?
Landlords are often responsible for the upkeep of their rental properties, but what about ceiling fans? This is a question that many tenants and landlords must grapple with. When it comes to ceiling fans in rental property units, it is important to look at 2 things: the lease agreement and local laws. In some cases, landlords may be required by law to provide ceiling fans – especially if the tenant specifically requests one. However, in other instances having a ceiling fan installed could be considered an optional amenity that sits outside of landlord responsibility. It ultimately depends on the jurisdiction and any related real estate regulations in effect. Ultimately, both landlords and tenants should check local laws so they know exactly who is responsible for ceiling fans in a rental property unit.
---
Where to Find a Pro to Install or Repair a Ceiling Fan
Finding qualified, honest, and reliable service pros can sometimes be more challenging than previously thought. The best way to find quality pros to install or repair a ceiling fan is usually word of mouth from a neighbor or other real estate investors, however there is a new alternative – online service directories. These platforms directly connect customers and service providers who can do installations and repairs from rental property ranges to apartment smoke detectors.
---
Are Landlords Responsible for Repairing Broken Ceiling Fans in a Rental Property?
When it comes to repairing a ceiling fan that is installed in a rental property unit, the responsibility to repair usually depends on a few things. First is to confirm whether or not the ceiling fan was installed (i.e. provided by landlord to tenant) upon the time of the lease. If so, then the landlord should technically be required to maintain any equipment that was presently installed into the rental unit at the time of the lease. Secondly, it can depend on the local real estate laws of the property. If local law mentions ceiling fan repairs (or like-kind language), then a landlord should technically bear the responsibility to repair the broken ceiling fan. Third, is to check the language in the signed lease contract. Some landlords may stipulate that this is not their responsibility to repair, and if both parties agreed by signing the contract, then there is little either can do to change it after the fact.
---
Are Tenants Allowed to Install Ceiling Fans in a Rental Property?
If a rental unit (e.g. apartment unit) does not have a ceiling fan, there is a likely chance that a tenant may request the landlord to install one, or they may ask to install one themselves. Generally speaking, a tenant would need to obtain permission from their landlord before installing ceiling fans or any other major modifications. Different states have different real estate laws related to ceiling fan installation and permission granted by landlords, so it's important that tenants review applicable laws and their lease agreement before proceeding with any ceiling fan installations within their rental unit. Furthermore, some landlords only allow ceiling fans that are professionally installed by a licensed tradesperson due to safety risks and may even require additional insurance coverage for tenant-installed ceiling fans. Therefore, it's best for a tenant to contact their landlord and discuss the law as well as all terms of ceiling fan installation prior to initiating any work.
---
More Rental Property Building Products
Disclosure: RentalRealEstate.com is a participant in the Amazon Services LLC Associates Program as well as other affiliate programs, designed to provide a means for us to generate revenue by linking to Amazon and affiliated sites at no extra cost to you.